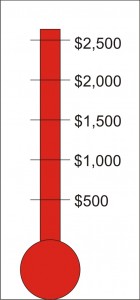 We have exceeded our goal of raising $2,500 to support the conversion of our layout to use the latest digital control system. As of our business meeting in November we had raised more that $2,600. Many thanks to everybody who helped us.
This upgrade will allow us to run more trains on the layout at one time and take advantage of the the sounds and controls that are available on the latest locomotives. This will make running trains more interesting and more realistic.
Our layout was originally designed and built more than 50 years ago. It has proved to be very flexible and has stood the test of time well. However, we have decided to adopt the new digital technologies that are now available.
This upgrade went well beyond what the club had been able to raise on a regular basis to maintain and operate the layout. We need your help to accomplish this upgrade.
We will appreciate your future donations that will help us to continue to improve our layout. Even a dollar or two would help. You can send your donation to:
GGMRC Modernization Fund
P.O. Box 14933
San Francisco CA 94114
Thank you for your support!